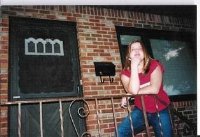 From Amazon.com:
Christina Leigh Pritchard was born and raised in South Florida. Her first stories were written at the age of nine in $0.15 wide ruled spiral notebooks (which were supposed to be used for class) ;o)~ and in the various diaries she kept. Stories she wrote from age nine to twelve fill about four storage boxes!
Since she's upgraded to a computer, she's completed over fifty books and still going strong. Her genre's include dark fantasy, young adult, drama, suspense, historical romance, multicultural, comedy, poetry and many more.
Her main aspirations in life are: her dog, Teacup; the beach, writing and well, writing! The author says, "I breathe novels. Is there really anything else worthwhile besides writing and of course faith?"
What she says:
The most rewarding thing a person can do:
1. "Give all of your excess. You don't need it so why store it and allow it to collect dust?"
2. Listen to the stranger next to you whether on a bus, plane, park bench-whatever. Learn all you can about them and then notice how in such a short amount of time they had the ability to teach and/or change you!
Visit her Blog and subscribe for free upcoming novel excerpts: http://teeny120.wordpress.com/
Website, blog, social media links: