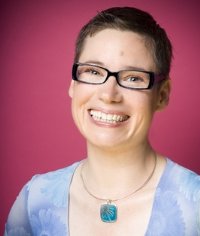 From Amazon.com:
I write the books I needed as a teen and couldn't find.
I love to write--and I love to read. Books nurture me, helped me survive the abuse I endured as a child and teen. I write fantasy books and edgy, realistic fiction for teens.
My fantasy books often hold hope that I need, and feel others might need, too, while reflecting on forms of oppression or pain, while my realistic fiction is gritty, intense, and emotional. All of my books have fragments of the abuse I experienced. I write about some of the harsh things teens go through...things that I think shouldn't be hidden. But I also write about healing, hope, and love, and finding courage and strength.
In SCARS (WestSide, 2010), Kendra must face her past and stop hurting herself before it's too late. There's a lot of me in SCARS; like my main character, Kendra, I am an incest survivor, I used self-harm to cope, and I'm queer. And it's actually my arm on the cover. In my teen paranormal fantasy, HUNTED (WestSide, Oct 2011), Caitlyn is a telepath in a world where that is illegal, and she must choose between saving herself or saving the world. Like Caitlyn, I know what it's like to have my life threatened, to have someone stalk me, and to have to decide between hiding my true self or being who I am, even if that means danger to myself. I also drew on my experience with cults and ritual abuse in creating the world that Caitlyn lives in.
STAINED (Harcourt, Fall 2013) also draws on a lot of my life experience, and talks about things that are important to me.
Books were my survival during my childhood, and my journey into myself. Books give me hope. I hope mine will give you hope, too, or something that you need.
Website, blog, social media links: