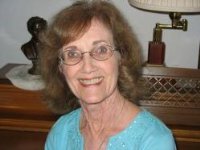 From Amazon.com:
When Beverly was a child she hated to read. She hated to write. She was grown and married, with children, before she discovered what she was missing. Reading to her sons was the beginning. Then she started teaching and read to her students. Today, she's retired and reads every spare minute. When she's not reading she is writing.
She lives in the country with her husband, two cats that adopted her, and a variety of wild critters that stop by for a handout. Her five novels for teen readers: Life on Hold, Caves, Cannons, and Crinolines, Listen to the Ghost, Secrets I Have Kept, and Rebel in Blue Jeans are available here on Amazon. Just Breeze, a MG/tween novel is available in print and Kindle. Caves, Cannons, and Crinolines is an Honor Book in the 2012 Eric Hoffer Awards YA Category. It's also a finalist in the 2011 Next Generation Indie Awards, novella category, and in the Dan Poynter eBook Global Awards, teen division. Her first picture book, Frankie's Perfect Home, is absolutely gorgeous thanks to Alex Morris' beautiful illustrations. And her first easy reader, Tumbleweed Christmas, has the neatest characters illustrated by Bridget McKenna.
Life is good.
SIX MINUTES WITH BEVERLY MCCLURE:
Joining LitPick today for Six Minutes with an Author is Beverly Stowe McClure. Beverly is the author of several books, including Under a Purple Moon; Caves, Cannons and Crinolines; and Star of the Team. In addition, Beverly's story about her biggest fan, her cat, Tiger, is in Chicken Soup for the Soul: My Very Good, Very Bad Cat: 101 Heartwarming Stories about Our Happy, Heroic & Hilarious Pets.
Beverly lives in the country and she has had deer, skunks, armadillos, and a roadrunner wander through her yard. She is known as the "Bug Lady" because she saves moths, butterflies, walking sticks and praying mantis from her cats.
How did you get started writing?
I wrote a poem in eighth grade that my teacher sent to a high school anthology contest. It was published in YOUNG AMERICA SINGS. I wrote nothing else until I was an adult and teaching. Reading great Newberry winners with my students started getting me to think what it would be like to write stories for children. So I took a writing course, wrote several articles for children's magazines, and to my surprise, they were published in FOCUS ON THE FAMILY CLUBHOUSE JR., JACK AND JILL, LADYBUG, and other children's magazines. Then I tried writing novels. I haven't stopped yet and now have thirteen books for children and teens published.
Who influenced you?
The students I taught who enjoyed reading so much.
Do you have a favorite book/subject/character/setting?
Not really. One of my favorite books to read, however, is GONE WITH THE WIND, not a children's book. I enjoy most all subjects, except scary or vulgar ones; historical fiction is my favorite subject. To learn how people lived years ago, without our modern conveniences, shows their strength and determination to survive, despite all odds.
What advice do you have for someone who wants to be an author?
For most writers, it's tough. A few may have a best seller with their first book, but the majority of us write for a long time before readers even know who we are. Don't give up. If you keep writing, you will succeed. Don't be impatient. Good things take time.
Where is your favorite place to write?
I write on my desktop computer on the desk in my "writing" room, actually a spare bedroom that I've converted to my office. It has a huge window where I can look out and see the birds, rabbits, and squirrels when I'm having a problem with a story. Often, taking a break to enjoy nature helps me find a solution to what's not working in my story.
What else would you like to tell us?
I would like to tell your readers "Thank you" for reading my stories and writing your lovely reviews. Your words of encouragement are exactly what authors need to keep them writing. Thank you.
_______________
Beverly, thank you for spending six minutes with LitPick! We really enjoyed reading about how you got your start in writing!
Website, blog, social media links:
picture: