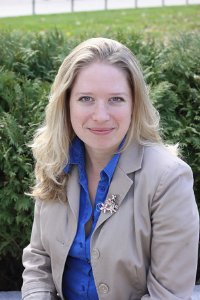 From Amazon.com:
Under the pen name Avery Sawyer, Laura Schaefer is the author of Notes to Self, a young adult novel about a teen with a traumatic brain injury.
Schaefer is also the author of The Teashop Girls (Simon & Schuster 2009), The Secret Ingredient (Simon & Schuster 2011), and Planet Explorers Travel Guides for Kids. Learn more about her by visiting http://www.teashopgirls.com and http://www.planet-explorers.net. Laura is also on Twitter: @teashopgirl
This biography was provided by the author or their representative.
SIX MINUTES WITH AVERY SAWYER:
Joining LitPick today for Six Minutes with an Author is Avery Sawyer, author of Notes to Self. Avery is also known as Laura Schaefer, and is the author of The Secret Ingredient and The Teashop Girls. She is also the founder and publisher of Planet Explorers Travel Guides for Kids.
How did you get started writing?
I got serious about writing in college, when I worked for my student newspaper The Daily Cardinal at the University of Wisconsin-Madison. I was the book review editor and got to interview some notable authors including Mona Simpson and Douglas Coupland. As I graduated, I realized I didn't really want to look for a job and started writing professionally instead.
Who influenced you?
I am influenced by authors like Ann M. Martin, Louise Fitzhugh, E.L. Koningsburg, and Lauren Oliver. I also really like Curtis Sittenfeld and Elizabeth Gilbert.
Do you have a favorite book/subject/character/setting?
I like introspective characters and warm settings.
What advice do you have for someone who wants to be an author?
Read, read, read. Then write a ton and be willing to throw stuff out until you've improved. Ask for feedback and don't get mad when it isn't all positive. A lot of becoming a successful author is perseverance.
Where is your favorite place to write?
I like to write in coffee shops.
What else would you like to tell us?
I'm moving to Florida from Wisconsin! I'd love to hear from your readers if they have any advice on making a big move. :)
Here is more information about WordChum: WordChum offers a quick and affordable solution for students and professionals. With an easy-to-use web platform for uploading documents such as social media postings, professional memos, cover letters, blog content and emails, WordChum experts review your communication for grammar, punctuation, tone and overall clarity.
Thank you so much for spending six minutes with LitPick! Good luck getting settled in Florida. At least you won't need to shovel snow!
Website, blog, social media links: