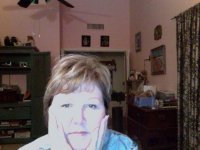 From Amazon.com:
Ann Swann was born in the small West Texas town of Lamesa. She grew up much like Stevie-girl in The Phantom Pilot, though she never got up the nerve to enter the haunted house. Ann has done everything from answering 911 Emergency calls to teaching elementary school. She still lives in West Texas with her husband, Dude, two rescue dogs, and one rescue cat who rules the roost. The Phantom Pilot was her first published book (Cool Well Press).
August 23rd, Ann published her first contemporary women's novel, ALL FOR LOVE, from 5 Prince Publishing. It answers the question: How long does it take to fall out of love...
The Phantom Student, Book 2 of The Phantom series, will be published in October, 2012. Her story, Soul Gardener, is in the anthology, Timeless. And her new stories, Skeleton Rock, and The Blister Bear, will be included in Campfire Tales (which should be out in September).
Ann also tried her hand at self-publishing a short story called Chems. It is the story of a boy who finds a chemical-zombie hiding in his father's tool shed.
You may visit Ann at Annswann.blogspot.com where there are even more stories to read!
Website, blog, social media links: