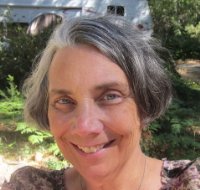 From Amazon.com
Alethea Eason is a writer, teacher, and free-lance editor.
Heron's Path is her second published novel. Two sisters, two destinies. Journey with Katy and Celeste down the Talum River as they discover Celeste's destiny to fulfill the heron's path. "A magical tale of a girl finding her power, beautifully told." Ashen Vaden, Course in Mirrors (Amazon review). This book was inspired by the history of Indian Matrons described in the book, In the Land of the Grasshopper Song: Two Women in the Klamath River Indian Country in 1908-1909 by Mary Ellicott Arnold and Mable Reed.
Hungry is Alethea's humorous middle grade science fiction novel published by HarperCollins in 2007. Would you eat your best friend if your parents told you to? That's Deborah's dilemma. She's the only 6th grade alien on Earth, disguised by a human overskin, and pulled between her loyalty to her friend Willy and her family and species. Alethea has finished Starved, a sequel to Hungry.
Alethea has published stories in several anthologies for children including A Glory of Unicorns, edited by Bruce Coville. Stories have also appeared in New Moon Magazine and Shoo-Fly Audio Magazine. She also writes for adults and her work has appeared in Sweet Fancy Moses, Radiance, and Marion Zimmer Bradley's Fantasy Magazine, among others. She won the Eugene Ruggles Poetry Award, sponsored by The Dickens, published by Copperfiled Books of Sonoma and Napa Counties.
As a reading specialist, Alethea has taught grades kindergarten through eighth. She spent a year and a half at St. Margaret's British School for Girls in Concon, Chile where she worked in literacy in the junior school and as an IB English teacher at the senior school. She now teaches at Minnie Cannon Elementary School in Middletown, California.
Alethea has edited a number of novels and memoirs. She prides herself on working quickly and thoroughly. When working on a novel, she becomes invested in the book and hones it so that the best potential of the manuscript shines forth.
Alethea lives in Cobb, California with her husband, Bill, and Jinxy and Arturo, their two tabby cats.
Website, blog, social media links: