Basic, Guaranteed, Rapid,
and Deluxe Book Review Packages
from Our LitPick Book Reviewers
---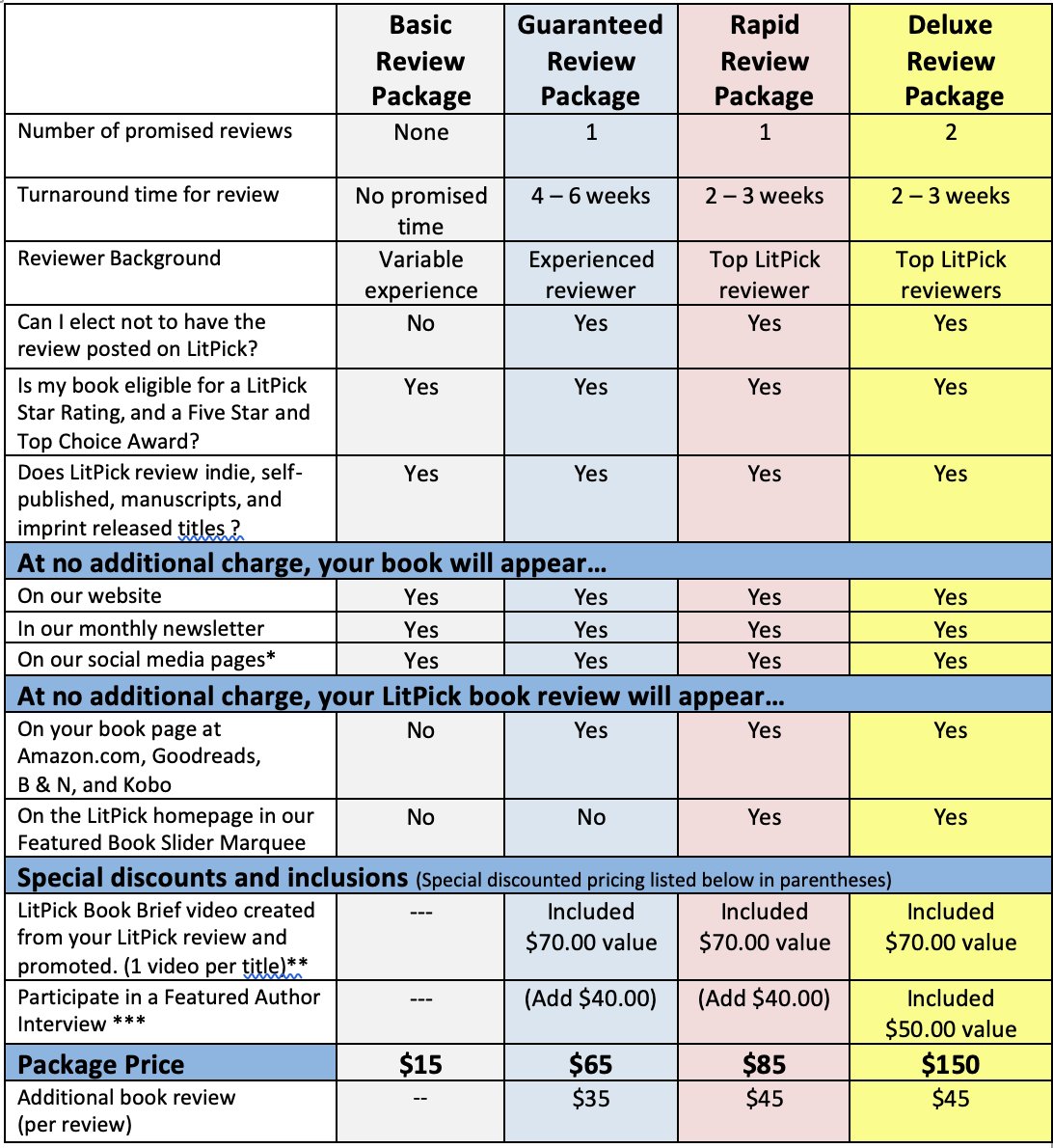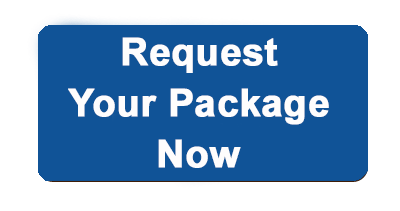 * Promotion of your books on our social media pages includes Facebook, Twitter, Instagram, and LinkedIn but may include other social media sites as well.

** Your LitPick Book Brief (LBB) video is placed on our LitPick YouTube channel and posted on Facebook, Twitter, Pinterest, Blogger, LiveJournal, and other LitPick social media sites. You can also request a copy of your LBB video so you can upload it to your website, blog, social media pages, and Amazon.com book page. If accepted by Amazon, these videos are particularly engaging when placed on your Amazon.com book page under "Customer Reviews" where they are very visually-engaging and appealing. LitPick Book Briefs generate extra incentive to buy your book, beyond the attraction that is ­produced solely by a standard written book review.

*** Featured Author Interviews are placed on your LitPick website author page, Facebook, Twitter, Instagram, and LinkedIn.
About Our Book Review and Book Promotional Packages

LitPick Basic Book Review Package
Authors, publishers, and publicists who are interested in having their books reviewed by LitPick but are not concerned with being guaranteed that one of our students or adults will review their title or with the length of time it will take to obtain a review can submit their book for a LitPick standard book review as part of our LitPick Basic Book Review Package.

With a LitPick standard book review, any one of our student or adult book reviewers can choose to review your book at any time, but there is no guarantee when and which of our reviewers will review your book. We only assign Rapid, Deluxe, and Guaranteed Book Review requests, otherwise our studentand adult reviewers decide on their own which books they want to review and when.


This package also includes an opportunity to receive a LitPick Five Star Book Award, a listing of your book on our website, and a promotion for your book in our monthly newsletter and on our social media pages.
There is a nominal charge for our Basic Book Review Package.


LitPick Rapid, Deluxe, and Guaranteed Book Review Packages
These packages make sure your book is reviewed within a certain time period. Obtaining a review increases your chance of receiving a LitPick Five Star or Top Choice Book Award. Verified book reviews are also available by request.


Are looking for a review to coincide with your book's release or if you want a prompt review of your book by LitPick (within 2 - 3 weeks), you should request a Rapid Book Review by one of our top student or adult book reviewers. The cost for a Rapid Book Review is $85.00 or you can request two Rapid Book Reviews for $130.00.

Our Deluxe Book Review Package is for authors looking to use their LitPick student or adult book review to promote their book online through social media. This Deluxe Book Review Package includes two Rapid Book Reviews, along with an author interview and LitPick video, which are promoted on social media.
Request a Rapid or Deluxe Review Package Now
On the other hand, if you just want to make sure that your book is reviewed by one of our experienced student or adult reviewers within 4 - 6 weeks, you can request a Guaranteed Book Review. The cost for a Guaranteed Book Review is only $65.00, or you can request a second Guaranteed Book Review for only an additional $35.00.
Request a Guaranteed Review Package Now

Our Publish or Perish Option with Rapid, Deluxe, or Guaranteed Book Review Packages
With either a Rapid, Deluxe, or Guaranteed Book Review Package, once your book is reviewed, we will notify you by email and send you a link to your book review on LitPick. Upon reading your review, you then have two options.

Option 1 (Publish Option) You can choose to have the book review published on our site. If your book is listed on Amazon.com, Goodreads, Kobo, and Barnes & Noble, we will publish the review on these sites too.

Option 2 (Perish Option) You can ask that the review be removed from LitPick

For Rapid and Deluxe Book Review Packages only:
We showcase your book and your LitPick book review on our home page marquee slider for one month

We feature your book in our monthly newsletter, which gets sent out to thousands of subscribers.

As part of our Deluxe Book Review Package, besides publishing our review of your book on your book page at Amazon.com, Goodreads, Kobo, and Barnes & Noble, to increase your exposure on social media we will also publish your book's review on our Facebook, Instagram, LinkedIn, and other social media pages, as well as send out an announcement about your review from our Twitter account.

With either a Rapid or Deluxe Book Review package, you can also choose to continue to feature your book on our home page and in our newsletter for an additional month for only $30.00.

If you would like a Rapid, Deluxe, or Guaranteed Book Review of your book, please email us. Or if you have not yet submitted your book for review to LitPick, once you contact us for instructions explaining how to activate the book submission form, you will then be able to request a LitPick Rapid or Guaranteed Review as you fill out the form and submit your book.

Review of book series


Contact us

for special pricing

to review a book series

Review of embryo-books & manuscripts

(See below)
---



---
General information about our review process
Please do not send us review copies before emailing us for instructions.

Once we receive information about your book, the book will be posted on an internal online book list. This list of books available for review by our students and adults is accessed by our student and adult book reviewers after they log into LitPick. Our student and adult reviewers request books they want to review from this student and adult book list, and when your book is chosen by a student or adult, it will promptly be sent to them. After a student or adult reviews a book and their book review is posted on LitPick, we will email the individual who sent us the review book to inform them that their book has been reviewed and that the review appears on LitPick. There is no fee for having your book reviewed through our standard review process.


Besides promoting reading and writing among students and adults, we like to help authors and publishers promote their books and book reviews.
---
eBooks
Yes, our students and adults will review eBooks. This format is becoming increasingly popular among our student and adult book reviewers. We prefer to receive eBooks as a pdf file, but we will accept other formats. The review books sent to us by authors and publishers, whether print or eBooks, will be reviewed a limited number of times by our reviewers. Please be assured that we explicitly warn our student and adult reviewers about the illegality of piracy.
---
Embryo-books and manuscripts
Yes, our reviewers will even review embryo-books and manuscripts.
Would you like feedback on some initial chapters of your book or on a manuscript? For $45.00 (up to 100 pages) or $65.00 (over 100 pages), our student and adult reviewers are available to review what you have and give you their thoughts.
Please contact us for details.
---