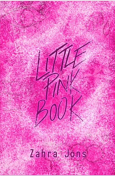 LitPick Review

Amelia is just a normal high schooler until one day when she crashes into THE Samantha. Part of the group of THE girls, THE Samantha is gorgeous, flawless, and skinny despite stuffing her face with unhealthy food. Meanwhile, Amelia seems to gain calories just looking at a dessert. And of course, her crush, Matt, had to have watched the whole disaster go down. But when Samantha leaves her little pink book behind, Amelia accidentally grabs it, thinking it is just a diary. But after looking into it more, she realizes it's far more powerful than a diary... with this book, she can eat whatever she wants and not gain a pound. But there might be trouble, both from the mysterious book itself and THE girls who want it back.
Opinion:
This book was incredible! First of all, I think the plot was so unique as it combined magic with an aspect of the everyday life of a teenager and things she worries about. I love the idea of the mysterious book, and I think it teaches readers a lot about thinking about how their actions affect others. Also, the writing style for this book was clear and easy to read, and the characters seemed very realistic. Compared to other books about magic and dark magic, this one ranks very high up as it is not confusing like other books I have read. Overall, I recommend this book to teens looking for an exciting book mixing everyday life with mysterious magic.
Explain your content rating:
There were a some offensive terms/swears in this book.
KEYWORDS
CHARACTERISTICS AND EMOTIONS:
ACTIVITIES, HOBBIES, PLACES, AND EVENTS: