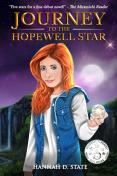 LitPick Review

Sam isn't expecting a birthday present from her parents. They are away on a secret mission while Sam is with her grandpa at the farm they live on. So when she finds a creature named Boj claiming to be from the planet Kryg with a package from her parents, she is very shocked. She discovers that her parents sent her a Klug, a device that she can use to help transport Boj (who is trapped on Earth without transportation) back to Kryg. Sam travels back to Kryg, and she finds out that she is the queen of Kyrg... and she has to save the Hopewell Star, the sun that powers all of Kyrg and Earth that is fading away. It's a huge responsibility, plus Sam is moving with her grandpa and will be going to school for the first time. Will she be able to handle it all, plus be able to save Earth and Kryg?
Opinion:
My favorite part of this book was that it talked about a real problem: saving the Earth. It sent a meaningful message about what will happen if we are not careful with our home planet. I liked how the story was informative but very entertaining to read with the added planet Kryg. I also found that this book was not confusing at all as the author explained well where the different scenes were taking place. One thing I did not like about this book was that sometimes the book seemed slow while at other times the events all happened extremely fast. Also, I was a little confused about Aruna's role in the story. Overall, I enjoyed this book and recommend it to others.
Explain your content rating:
There is no offensive or inappropriate content in this book.
KEYWORDS
CHARACTERISTICS AND EMOTIONS:
ACTIVITIES, HOBBIES, PLACES, AND EVENTS: