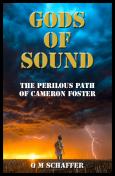 LitPick Review

Cameron is an extremely talented musician... but could his talents go beyond just the music he plays? That is the question 10-year-old Cameron Foster starts to ask himself when a mysterious girl, whom Cameron thinks of as Leather Girl, starts to pay attention to him. Who is this mysterious girl, and why is she so interested in Cameron? And when his mother dies and he is taken in by her, she brings him to a large mansion owned by the mysterious Z3. At the house, he finds several other young, talented musicians, and together they complete weird challenges. What are the magical guitars that seem to have powers beyond playing music? And who is the mysterious Z3, and why has he gathered them?
Opinion:
I loved this book! It was very interesting and had me hooked. Despite starting slow, I found myself unable to put this book down. Another thing that I liked about this book was that the main character, Cameron Foster, had real-life problems that a lot of kids deal with such as being bullied and not having a lot of friends. This book was written with very clear language, and I was able to completely understand what was going on in the story throughout the whole story. The one thing I did not like about this book was that the ending seemed incomplete as a lot of problems were left unresolved. Overall, I recommend this book to others.
Explain your content rating:
There is mature content in this book.
KEYWORDS
ACTIVITIES, HOBBIES, PLACES, AND EVENTS: