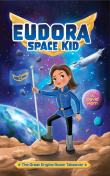 LitPick Review

Eudora Jenkins loves adventure. She lives on an AstroFleet named Athena with her parents and other people from various species throughout the galaxy. Eudora has so many ideas for the ship, but no one lets her implement them! Eudora's dream is to become an officer on the Athena, but she doesn't want to wait that long! She wants to test her idea that will make the AstroFleet go the fastest it's ever gone (and even break a record) right away. So Eudora makes a plan to trick the adults and test out her idea. Sure she may get in trouble, but everyone will be proud of her after they see how fast the ship is going ... right?
Opinion:
This book is a short but very entertaining read. I really like how the book takes place on a spaceship and that the characters are all different creatures from different planets. This combined with the illustrations created a very silly and fun mood as I was reading the book. The author also did a great job of describing the setting as I was able to really understand what type of place the AstroFleet is and what the different characters are like. Another thing that I liked about this book was that the storyline was unique. I really liked that the main character was interested in the engineering element of the ship where she lives since this is different from what characters in other books are interested in. I think this book would be a great inspiration to younger kids and especially girls to become more interested in STEM. Overall, I think this book is great for elementary school kids as it is funny and captivating.
Explain your content rating:
There was nothing offensive in this book.
KEYWORDS
CHARACTERISTICS AND EMOTIONS:
ACTIVITIES, HOBBIES, PLACES, AND EVENTS: