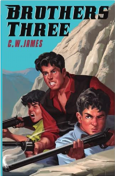 LitPick Review

Allen, Paul, and Chet's parents died 2 years ago, leaving them orphaned and in the care of their Uncle Barnaby. But when Barnaby hears of the riches in San Fransisco, he leaves the boys alone to take care of the ranch while he goes off in search of gold. One day, Paul and Chet discover that their horses have been stolen and quickly call over Allen. Upon further inspection, they discover that their house has been ransacked, and all their valuables including their gold have been stolen. Since none of the boys are yet 18, they haven't officially inherited the ranch from their parents yet, and with Uncle Barnaby in California, the boys know they must get their possessions back. Assuming that it was just some common horse thieves that had burglarized their home, Allen sets off to get their possession back, leaving Paul and Chet at the ranch. But is this a simple robbery? Or is Allen involving himself in something much more dangerous than he can imagine?
Opinion:
Overall, I really enjoyed reading this book. The first thing I liked about this book was how the plot moves very quickly. Within the first few chapters, we went from the boys being introduced to their house being burglarized to Allen first spotting the stolen horse. This made me enjoy reading this book even more as each chapter felt action-packed and held my attention. Another thing I really liked was how suspenseful this book was. The way the author cut from Allen's point of view, then to Paul and Chet's made the book more exciting and made the events happening in the book much more suspenseful. Lastly, I liked how the author showed the theme of working together through the three brothers who loved and supported each other throughout the whole book! This is the perfect book for any readers who like books filled with adventure!
Explain your content rating:
There is some content that may not be appropriate for young children.
KEYWORDS
CHARACTERISTICS AND EMOTIONS:
ACTIVITIES, HOBBIES, PLACES, AND EVENTS: