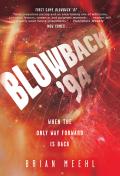 Genre -
Historical Fiction
LitPick Review

CLICK HERE! to view the LitPick Book Brief Video for Blowback '94

Fresh off of his trip to 1863, Arky has no time to rest before he is thrown into another adventure, this time with his sister, Iris. When the fog clears, they find themselves in 1894 Paris. More important, they find what they have been looking for: their mother. However, while finding their mother in 1894 is a simple task, returning home to Bellepain proves more difficult. While searching for a way to return to the modern world, the family quickly becomes entangled in the daily struggles of 19th-century France, the cultural and artistic joys of the Moulin Rouge, and the romance of Belle Epoque Paris.
Meanwhile, Howard, their father, is left behind. Left without any family in the present, he must turn to the only people who might believe him: Matt and Danny. Unfortunately, while their own time-travel adventures make them potential allies, the cor anglais have erased their memories, making the world of time travel seem more fiction than science. As Howard desperately seeks a way to recover his family before hopelessness consumes him, Octavia, Iris, and Arky must return to the present before the pathway home is closed forever.
Opinion:
With this stunning conclusion to the Blowback trilogy, author Brian Meehl weaves together the extravagance of 1894 Parisian society with clever time travel and compelling, stunningly human characters to create his best work yet. As with the previous two books of this trilogy, the historical setting is impeccably researched and totally believable. Meehl paints a picture of Parisian excess and, all too often, cruel injustice that makes the reader, though 125 years removed and perhaps an ocean away, feel like a part of that world.
Though less action-heavy than the previous two installments, Blowback '94 benefits from a slower pace as it allows the characters to shine. In them, I found the most compelling reason to pick up Blowback '94. While not many people can relate to being sent back more than 100 years in the past to rescue a time-traveling mother, every reader will feel a kinship with the characters the author has so lovingly crafted. Anyone with a sibling will be left smiling as Iris and Arky badger each other, and undoubtedly Octavia's simultaneous love for and frustration with her children will resonate with every mother. Even more potent are Howard's grief and despair at losing his family with no guarantee of reunion. His agony bleeds through the pages and into the reader's heart.
However, while the characters and setting are tastefully executed, the time travel does not shine quite so brightly. The mode of travel—via a magical cor anglais—never totally feels normal, even three books in, and the author's attempt to explain the mechanics in this final installment just add to the strangeness. While any time travel story might be unbelievable to an extent, this one feels a bit more unrealistic than necessary. While I appreciate the attempt to explain the mechanics of time travel with quasi-scientific theories (which is executed much better than most explanations of time travel), I wonder if, in the presence of such a wonderful historical setting and beautifully crafted characters, the specifics of time travel could have taken more of a back seat.
However, I sincerely hope this critique does not shy readers away from reading the Blowback trilogy, as it is well worth the time. Though it fits snugly into the young adult category with typical high-school problems, fast pacing, and perhaps a cliché or two, it can certainly be read by a wider audience. The story contains something for nearly everyone: history, science, magic, sports, music, romance...the list goes on. While the three books each contain more of some elements than others, they are all wonderfully executed. Even with the inclusion of so many different factors, the books do not feel overdone. The different aspects are well balanced and integrated into an elegant and blissful story—one I wholeheartedly recommend.
Explain your content rating:
Some aspects of 1894 Paris are a bit risque, and some language is used—though not excessively. This should not be a problem for any high school readers or more mature middle school or junior high readers.
KEYWORDS
ACTIVITIES, HOBBIES, PLACES, AND EVENTS: